Happy Month of the Mother!
At InnerVisions HealthCare, we take *motherhood* seriously.
Our mission is to empower the mom to save the baby, but we know that we can only save the baby by providing for the mom with loving and tender compassion.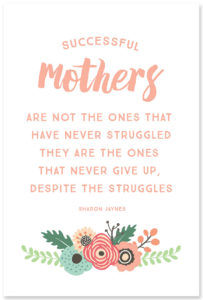 The other day, we came across this meme about "successful mothers", and it was profound, because each mother that comes to our clinic finding herself in a "crisis" pregnancy is struggling.
The nurses' job is to empower, equip, and encourage that mama — telling her that "she can do it!"
This ministry is special because we're in the trenches, fighting the culture's perception that "there's only one option".  We've seen more than 500 mothers choose life and they are grateful for InnerVisions, as you can see from this recent and unexpected email: 
Dear Jen,
I'm not sure if you remember me, I came in about a year ago when I found out I was pregnant and didn't know what to do and I didn't want to get an abortion. I just wanted to say that I am very thankful for your kind words and helpful advice. We have a beautiful baby girl who is 2 months old.  She is the most important thing in the world to me and her daddy now. We couldn't imagine life without her. I'm so glad that I decided not to terminate the pregnancy, and I'm so glad you were there for me.
This May, take an extra moment to thank your mother for saying "yes" to life and sign up for our upcoming gala in support of this life-saving mission!